3D anaglyph paper glasses for comic books, pictures
| | |
| --- | --- |
| NO: | P-002AS |
| Specifications: | 187 x 50mm |
| Description: | Cardboard 3D glasses, client's design surface printing with red/blue foil lens. 18.7 x 5cm ,no arms. |
These 3D glasses with Red/Blue lenses are used for viewing print, movies, websites, games, magazines,comic books ,3D TV and computer applications in 3D and is defined as two views of the same subject (either moving or still) in contrasting colors and slightly offset for two different perspectives. A three-dimensional effect is produced when these scenes are viewed with two correspondingly colored filters ( Red/ blue filter lens) matching the colors in the image.
It is also great for viewing the recently released 3D movies on DVD and Blue Ray disk like Avanta 3D, Polar Express, Shrek 3D etc.
* Made of Cardboard with filter anaglyph lens ( red/ blue ) inside in Sanwitch construction.
* The surface can be printed with special design text for giveaway or promotional purpose.
♦P-002A with arms; P-002AS without arms.
Key Benefit:
1. Cheap in Price for great amusement.
2. Prompt delivery.
3. Small Quantity available.
4. Client's design printing.
5.Great Business result.
6.Door to door dispatching service under requerst.
7.Payment via bank transfer ( T/T), Western Union, PayPal or Credit card.
---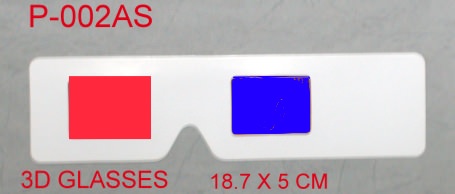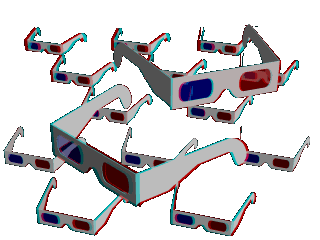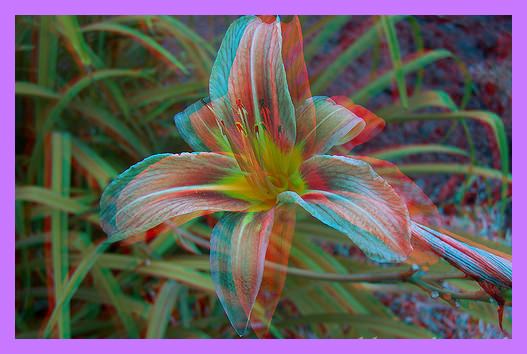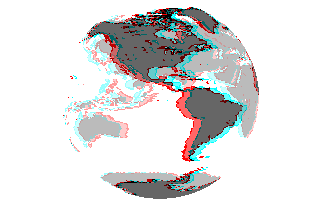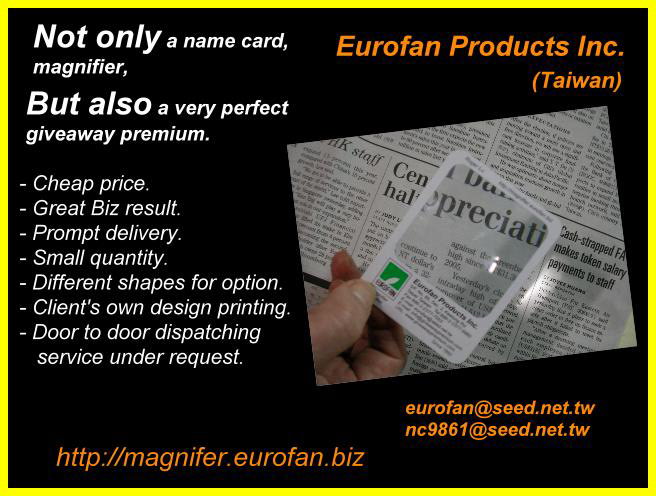 EUROFAN PRODUCTS INC.
5F, No. 85, Sec. 2, Keelung Road, Taipei Taiwan
Tel: 886 2 2377-9860
Fax: 886 2 2377-7553
E-mail: eurofan@seed.net.tw ; nc9861@seed.net.tw
URL: http://magnifier.eurofan.biz