Custom-made design shape and size magnifier
| | |
| --- | --- |
| NO: | E-031 |
| Specifications: | client's size and shape |
| Description: | customized shapes and size of flat magnifier |
►French Physicist Fresnel made the 1st lighter and thinner lens to replace the heavy glass lens for lighthouse in 1823.
►Eurofan changed the Fresnel Lens into 0.4mm thickness in different sizes for the special purpose and reading assistance.
♦ All products are made and printed in Taiwan with Taiwan Origin under 24 years production experience by Eurofan.
---
We are always asked to make some special shape and size of Flat Magnifiers for special purpose. Using our existing models with slight amandment , we hit the target successfully and satisfy the clients greatly.
If you have this request, please e-mail us the size and sketch, we are glad to make it for you. Please write to us by the e-mail: eurofan@seed.net.tw
Some specimen are attached for your reference.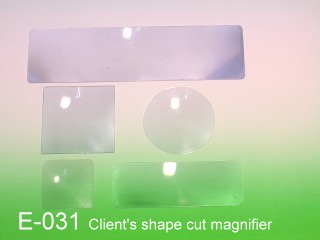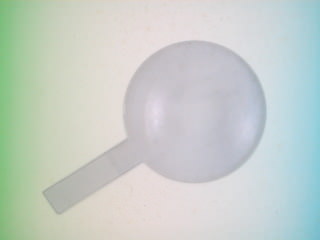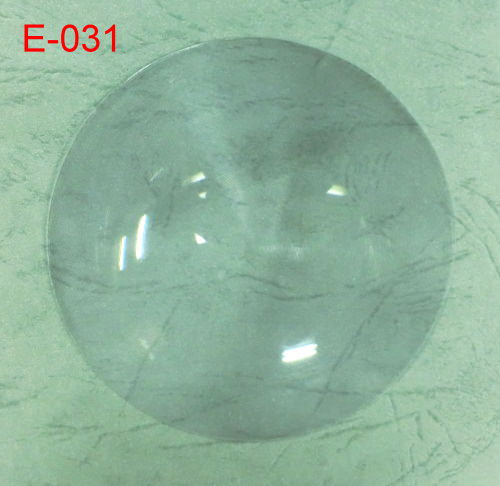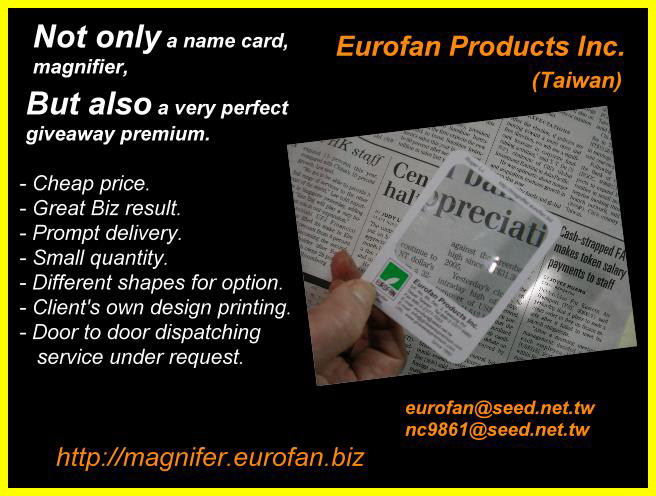 EUROFAN PRODUCTS INC.
5F, No. 85, Sec. 2, Keelung Road, Taipei Taiwan
Tel: 886 2 2377-9860
Fax: 886 2 2377-7553
E-mail: eurofan@seed.net.tw ; nc9861@seed.net.tw