Creative fancy page magnifier
| | |
| --- | --- |
| NO: | E-001D |
| Description: | Flat, light and powerful magnifier (Fresnel Lens ) with one big magnifier and 25 small shrink lens for educational aid |
►French Physicist Fresnel made the 1st lighter and thinner lens to replace the heavy glass lens for lighthouse in 1823.
►Eurofan changed the Fresnel Lens into 0.4mm thickness in different sizes for the special purpose and reading assistance.
Don't let small text hamper your love for reading! Magnifying sheets measures 210 x 271mm (9½x6¾") to easily cover most full pages of book text, and is also great for magnifying magazines, menus, maps, and newspapers. It is flat, light and powerful magnifier which enhances enjoyments of reading. Perfect for reading at home, in waiting rooms, and while traveling.
♦ All products are made and printed in Taiwan with Taiwan Origin under 24 years production experience by Eurofan.
1. Ultra-thin page magnifier with special construction with one big 3X magnifier and 25 pieces small shrink lens, special aid for eductiona and fun.
2. size 260 x 196mm with 0.4mm thickness , easy to carry or insert into book, Phone index, map or magazne.
3.Made of Optical Level PVC material to ensure the best magnifying purpose.
4.It is great fun for teenager student.
5. Each can be bent slightly or dropped with no damages to the lens.
6. each piece is loade with opp bag.
Key Benefit:
1. Cheap in Price for daily usage.
2. Prompt delivery.
3. Small Quantity available.
4. Client's design printing.
5.Great Business result.
6.Other solution for pure magnifying purpose with 2 size for option ( E-001A 210 x 175mm or E-001C 185 x 260mm).
7.Door to door dispatching service under requerst.
8.Payment via bank transfer ( T/T), Western Union, PayPal or Credit card.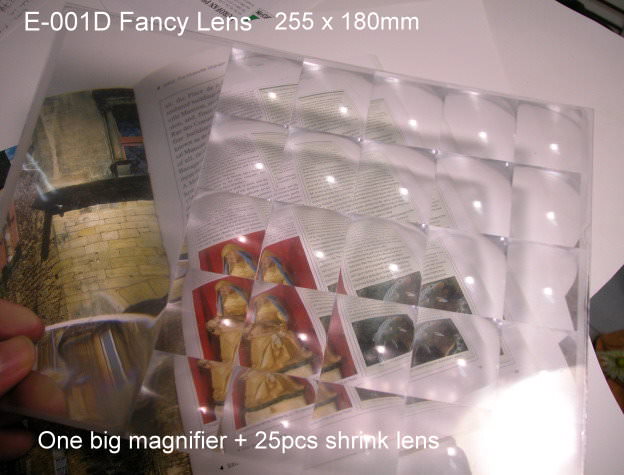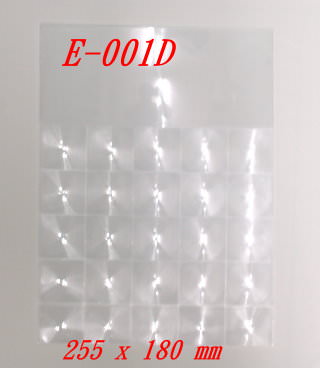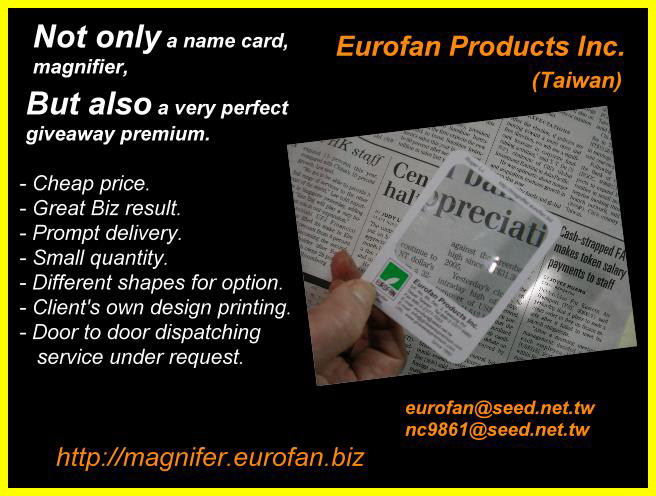 EUROFAN PRODUCTS INC.
5F, No. 85, Sec. 2, Keelung Road, Taipei Taiwan
Tel: 886 2 2377-9860
Fax: 886 2 2377-7553
E-mail: eurofan@seed.net.tw ; nc9861@seed.net.tw
URL: http://magnifier.eurofan.biz