Flat thin magnifier in Sheath pouch
| | |
| --- | --- |
| NO: | E-006 |
| Specifications: | Pouch: 90 x 65mm |
| Description: | Card magnifier in PVC sheath bag, with stopper in opening, easy to carry and store. |
►French Physicist Fresnel made the 1st lighter and thinner lens to replace the heavy glass lens for lighthouse in 1823.
►Eurofan changed the Fresnel Lens into 0.4mm thickness in different sizes for the special purpose and reading assistance.
♦ All products are made and printed in Taiwan with Taiwan Origin under 24 years production experience by Eurofan.
1. Ultra-thin credit card size magnifier with 3X magnifying power, each inPVC sheath bag.
2. Sheath bag size 90 x 65mm , rigth size to put into any pocket or wallet.
3. With stoper in both side openings, Pull lens out for reading purpose.
4.made of Optical Level PVC material to ensure the best magnifying purpose.
5.It is great for reading small print newspaper, books, maps, restaurant manual and so on.
6. Each can be bent slightly or dropped with no damages to the lens.
7. Each can be printed with with client's logo or promotional text on PVC Sheath for giveaway or promotional purpose.
Key Benefit:
1. Cheap in Price for daily usage.
2. Prompt delivery.
3. Small Quantity available.
4. Client's design printing.
5.Great Business result.
6.different shapes for option.
7.Door to door dispatching service under request.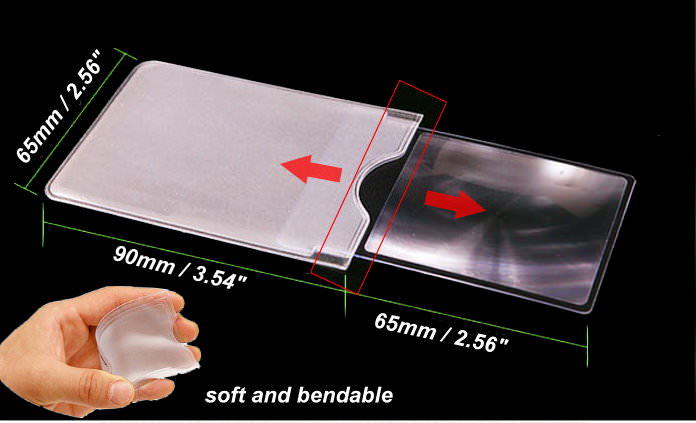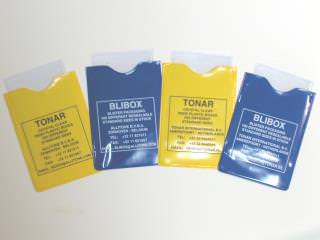 ​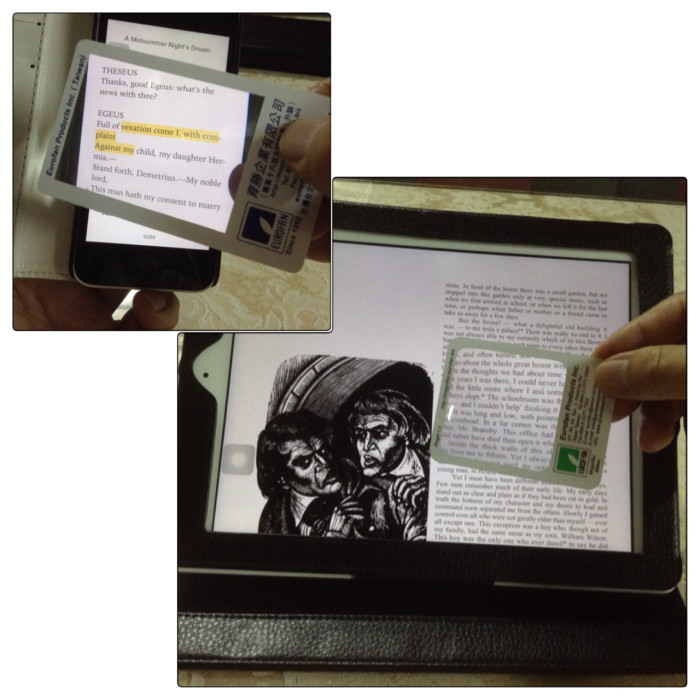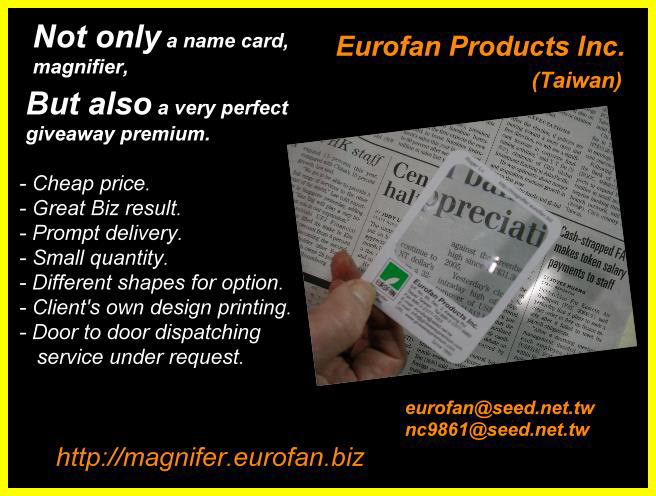 EUROFAN PRODUCTS INC.
5F, No. 85, Sec. 2, Keelung Road, Taipei Taiwan
Tel: 886 2 2377-9860
Fax: 886 2 2377-7553
E-mail: eurofan@seed.net.tw ; nc9861@seed.net.tw
URL: http://magnifier.eurofan.biz